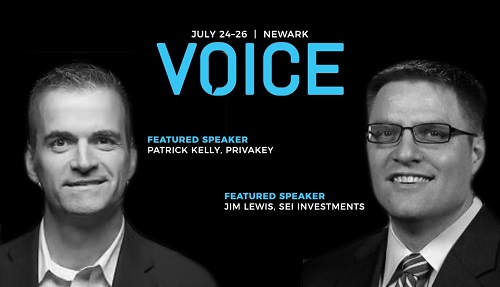 Privakey is partnering with SEI Investments to deliver a case study and live demonstration of its mobile-first authentication solution at the VOICE Summit in Newark, NJ on July 24, 2018 at 3:30 PM.   Patrick Kelly, Vice President at Privakey will share an overview of how the rapid growth of voice interfaces presents a challenging authentication problem for high value transactions in the financial services industry.
Joining Pat on stage is Jim Lewis, Director of Solutions Strategy & Development for SEI's Investment Manager Services division. He will share an overview of the natural language system SEI is developing and the authentication challenges they've encountered in their work to offer valuable new user interfaces.  SEI has embedded Privakey's authentication technology to create an intuitive and secure experience on the system, which is designed to support multiple natural language interfaces including voice assistants, chatbots, email and SMS.  Built on a modern API framework, it will be the first commercially deployed service that supports multiple user interfaces.
"Over the past year we've developed a natural language processing engine that provides a whole new way for advisors, investment managers and other financial services professionals to interact with the technology solutions that SEI offers," said Lewis. "It's not an insignificant endeavor, as we have needed to design and build a set of common API interfaces for our legacy solutions, moving away from monolithic applications to a more flexible and nimble set of services. The sensitive nature of the data being requested requires strong user authentication, which can be a challenge with voice interfaces."
"Users will reject using one-time passcodes, RSA tokens and other forms of strong authentication as they ruin the elegance of voice interfaces," said Kelly.  "Our technology makes it possible to use mobile phone biometrics for identity verification across all channels – even with natural language platforms like SEI's.  We look forward to sharing our insights and best practices for user authentication across all forms of voice applications."
VOICE Summit, set for July 24-26 at the New Jersey Institute of Technology in Newark, will explore the voice-first ecosystem across healthcare, education, marketing, government, fintech, transportation, smart home and security. The Diamond sponsor is Amazon Alexa and Platinum Partners include Yext, Audible, Prudential and Panasonic.  Privakey is proud to be a Bronze sponsor and exhibitor of the VOICE Summit. For more details on the session and to purchase tickets, visit this link.
About Privakey
Privakey's mission is to simplify how people confirm their identities, assert their intent and respond to any challenge.  We improve the customer experience and security of interactions by eliminating the reliance on passwords, "security" questions and other forms of unreliable identity verification mechanisms that both frustrate users and put their information at risk.
Our software solution turns existing mobile apps into strong customer authorizers. Services can then push any type of challenge to their users that requires a strong and definitive response. Common uses of Privakey include improving login, streamlining call center authentication and confirming account changes.  Whether customers are online, on the phone, on a mobile app, or using a voice connected device—they will enjoy the fast and intuitive engagement that Privakey enables.
About SEI
Now in its 50th year of business, SEI (NASDAQ:SEIC) is a leading global provider of investment processing, investment management, and investment operations solutions that help corporations, financial institutions, financial advisors, and ultra-high-net-worth families create and manage wealth. As of March 31, 2018, through its subsidiaries and partnerships in which the company has a significant interest, SEI manages, advises or administers $869 billion in hedge, private equity, mutual fund and pooled or separately managed assets, including $335 billion in assets under management and $530 billion in client assets under administration.